Marches School Celebrates Outstanding Student Achievements on GCSE Results Day
The Marches School is delighted to announce yet another year of strong achievements by the students on GCSE results day. With a strong commitment to nurturing individual potential and providing unwavering support, the school takes immense pride in the outcomes attained by its students.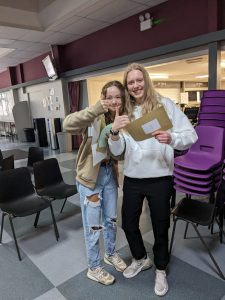 By offering personalised guidance, a nurturing learning environment, and a comprehensive range of resources, the school has empowered its students to achieve. This commitment to holistic education and support has once again yielded outstanding results.
Alison Pearson, Headteacher of Marches School, expressed her delight for the students saying, "We are thrilled to witness our students' exceptional achievements today. Their hard work, resilience, and determination have been truly inspiring. At Marches School, we believe in providing not just academic knowledge but also fostering personal growth and emotional wellbeing. The strong results achieved today reflect the combined efforts of our dedicated teachers, supportive parents, and of course, the incredible students themselves."
As parents and students celebrate some outstanding results, Marches School remains committed to its mission of providing quality education that extends beyond the classroom. The school is already gearing up to continue its legacy of academic excellence and holistic support in the upcoming academic year.
| | |
| --- | --- |
| GCSE Results 2023 | |
| Progress 8 Score | Will be updated with validated data as available |
| Grade 5+ in GCSE English and Maths | 37.60% |
| Attainment 8 Score | 42.73 |
| % Entered for the EBacc | 58.8 |
| Average EBacc points score | 3.82 |
| % of students in Education or employment after Key stage 4 | Will be updated as information in available |
The Sixth Form is still accepting applications for September 2023, for more information, please visit marchesschool.co.uk.
Notable Achievements:
Students achieving at least 8 grades at 9 to 7 (the old A*/A grades)
Lily Charles
Lucy Garton
Chloe Beddows (7 Grade 9's)
Seren Lingard
Samuel Sperring
Isobel Henson
Sofia Craig
Freya Mac Donald
Lauren Doodson (6 Grade 9's)
Students outstripping their expected progress were too numerous to list, however some at the very top were:
Felicity Clark
Jess Parsons Hann
William Phoenix
Alfie Hughes
Applications for The Marches Sixth Form are still open for students who would still like to learn more, our team are available and can be contacted through admin@mar.mmat.co.uk with further details on the school website.